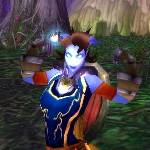 Annamonia

Race

Draenei

Class

Warrior

Guild

Ashes of Alterac

Professions

Blacksmithing/Mining

Hair

She has curly black hair that has a mind of it's own, yet never seems truly out of place.

Spirit

Annamonia's free spirit personality pours out of her. Her constant smile makes you feel welcome and her laughter is both warm and inviting.

Body

Her body is well toned and muscled, yet still very feminine.

Eyes

Her eyes are full of excitement, ready for the next adventure.

Other

A small mushroom-shaped black tattoo is located on the top of her right hand.

Companion

A small kitten with an even bigger sense of adventure stands at her side, waiting and ready.